" If You Got It

A Trucker Brought It "
---
Other Links
More Information (other stuff)
---


This page has links to other drivers pages, links to other truck related sites, and a whole bunch of other stuff.

If you have a banner you would like to add on this page please send it.

No banner ? No problem...Just send me your URL and I'll add a Text Link.

If you know of a good site you would like to see added here please let me know.

Thanks and hope to hear from you soon.

CW


---
Homepage Banners & Links
---

...Thanks Jerry...
---

...Thanks Dragonfly...
---
...Visit Dr Pepper...
---
...Thank You Cross Trucking...
---
...Thanks Bob...
---

...Thanks Scott...
---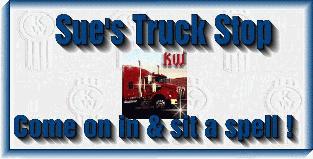 ...Thanks Sue...
---

...Thanks Charly...
---
| | |
| --- | --- |
| | ...Canadian AG hauling, complete with Snowmobile Racing... |
---
A Heavyhauler from the UK. This is just one of many GREAT pictures of some real Heavy Hauls.

...Thanks RIKKI...
---
Geoff Heyes
...Geoff is another Driver from the UK...

Drop in and pay him a visit
---
| | |
| --- | --- |
| Layover.Com | ...Great Site...Found everything I was looking for !!! ... |
---
---
---

...If you think your Trainer needs to be recognized/rewarded click on this link and add him/her to the list...
---
...www.newbiedriver.com...

...Lots of Info...A fun site to see...

...Thanks Rachelle...
---

...Great Graphics Here...Thanks Sharon...
---

...You will find some Great Pics here...
...Thanks Tom...
---
---


Tankyank
---
---
...Thank You ProudRebel...
---
---
BestDriverJobs.com
Click here to find a job
---

...Go ahead, Click It...
---
---

Lookin' for a New Ride ?
...take a looksee here...
---
---

If you would like to add a link to your site please use this banner. Let me know and I'll be happy to place your's on this page.
---
Download Free LogBook Software
I just want to bring to your attention a Free software program for Windows 95/98/NT/2000 for truckers and smaller trucking companies: Drivers Daily Log (DDL). Used by 40000+ drivers, auditors, inspectors, state police, and smaller trucking companies. Florida DOT even adopted DDL as their official audit and training tool. USA, Canada, AK, CA, TX, FL, WA rules plus fuel, odometer, expenses, revenue record keeping and reports. Even the IFTA fuel report if fuel and odometer records are entered.
Drivers Daily Log ( DDL) v2.29 (05 Feb 2001) is available for download at http://www.driversdailylog.com or http://home.ptd.net/~bjork.. Truck Load Balance (TLB) v0.98.3(21 Jan 2001) Truck Load Balance also available.
Sincerely,
Fritz Roland 'Nick' Bjorklund
Keep truck drivers safe and legal for free
The above statement is from E-mail I received from the author of the software.
CW
---
Truck Magazines Online
---
---
Federal and State DOT Links
---
---
Safety Links
---
---
Trucking Associations
---
If you belong to an Association, or know of a good one, send it to me and we'll add it here.
---
Other Stuff
---
---
---